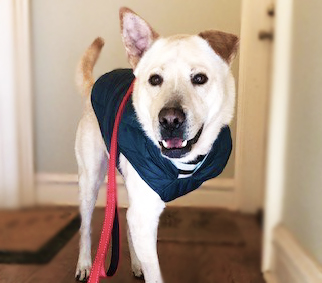 Pup Profiles
James Lee - On Adoption Trial
Male 🔸 Cat Friendly 🔸 Dog Friendly 🔸 House Broken 🔸 Latest Weigh-in 74.0 lbs
Foster Update: "For anyone wanting to meet James Lee, you will need to be patient. When he feels comfortable and safe he is a sweet, chill, bed/couch potato. He may not come snuggle with you on the couch or bed, but he does like to be able to see and be near his people (without necessarily touching). He shows his affections in more subtle ways like getting up from his spot and wagging his tail a little when you come home before laying back down, or curling up on the floor just outside of the bathroom door while you shower, or curling up on your side of the bed while you are away at work. James is Goofy. He is so smart! And likes his routine. He is leash trained in that he knows he has to have a leash on to go outside, but he will tell you if he does not want to go where you are taking him. He is well behaved in that he doesn't chew/eat things he is not supposed to (i.e. shoes, socks, etc.). He is great with the cats (basically ignores them) when we are in the living room (i.e. the cats territory) but is nervous/anxious when they are in his room/space."
James Lee's Story
James Lee's rescue story started in the crawlspace under a historic mansion in Memphis. When Streetdog Foundation was notified of his family, including mama dog Victoria and five newborn pups, volunteers headed straight out to help them. Victoria and the pups were rescued but James Lee had wedged himself so far into the crawlspace that despite our volunteers' efforts, they couldn't get to him.
Our volunteers watched day and night, drawing James Lee out with food and eventually enticing him into a trap with some Jack Pirtle's chicken! It was a complex and emotional rescue spanning four days but in the end James Lee was safe!
James Lee has an old injury to his front left leg and can't put weight on it without pain. Our Doc has recommended amputation but first James Lee will have to undergo heart worm treatment. It will be a long road to recovery for James Lee but he's a Streetdog now and we'll do whatever it takes to make him a happy, healthy pup.
~ Update January 2019 - James did, in fact, require a full leg amputation from the shoulder down. The amazing thing was that he started moving around significantly better than before his amputation. It was just what the doctor ordered!
———————————
Click "Additional Info" below to see the real time updates of James Lee's rescue!
Behaviors not listed have yet to be tested.